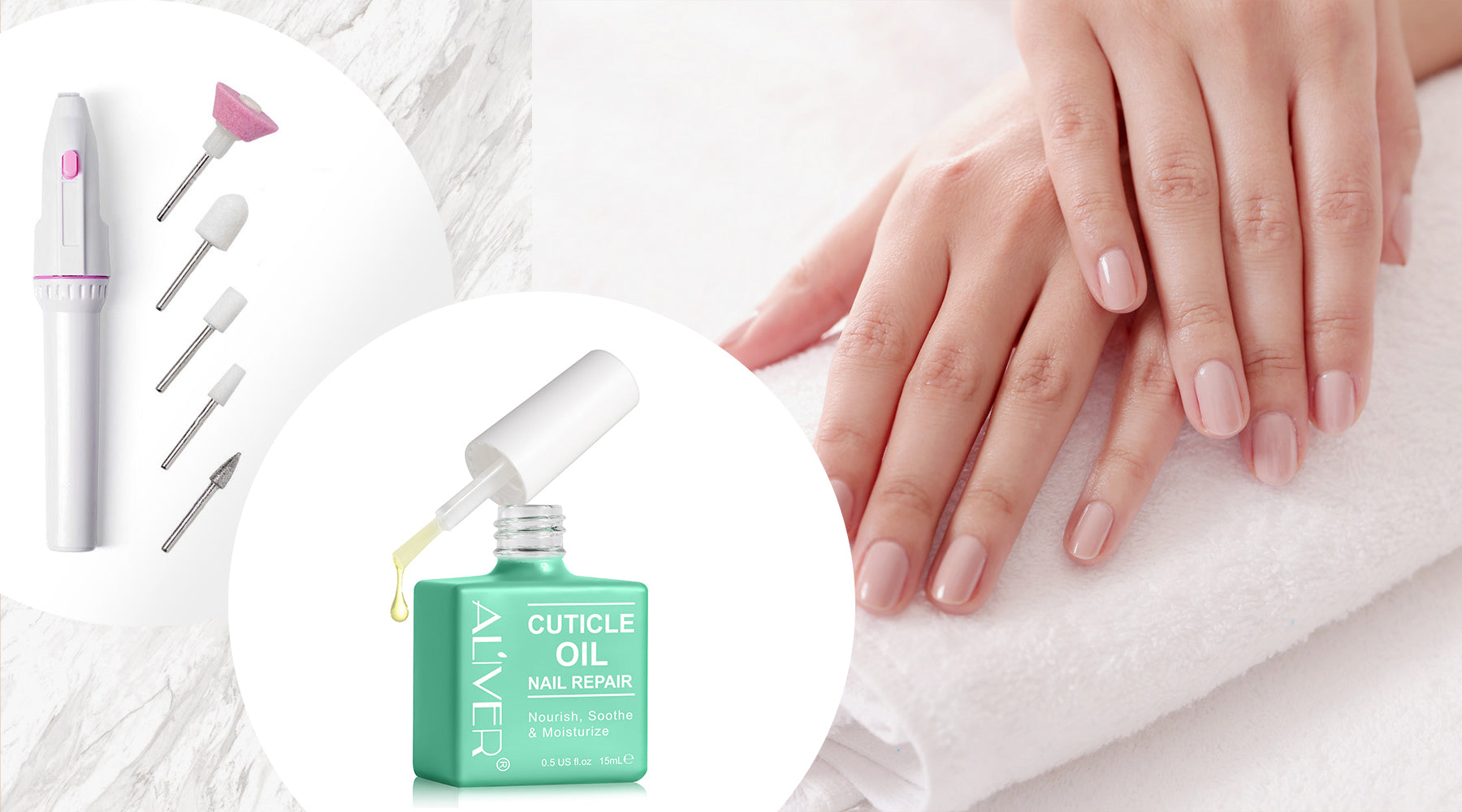 How to get the perfect manicure at home
Going to the nail salon once a month can not only be a costly self-care treat but also time consuming. One great way to get around the heavy spending, but also tackling with time slots and juggling around availability is to perfect the art yourself – at home! Whether it's a simple design or you fancy pushing the boat out, you can create your perfect set of nails from the comfort of your own home. All you need are the tools and products to do so. And helpfully, here at Aliver, we've got it all in one place for you to set started right away. Here's everything you need to create you're at home nail salon.
Aliver Cuticle Oil Nail Repair
Redoing your nails can be intense for the delicate skin and cuticles around your nails. Having dry cuticles and edges can offset the overall look of a fresh set. One way to combat this is through the use of a nail oil. Infused with key hydrating ingredients, our nail oil is perfect for getting that salon result. Helping to strengthen and prolong your nails, it's the perfect finishing step to your nail care routine.
One key tool for any nail kit is a nail drill. Helping you to achieve the perfect shape in quick time, the nail drill is there to help make your life easier. Featuring five heads, each stage of your manicure is covered. From filing, polishing and more, you'll achieve salon worthy nails from the comfort of your own home. An easily portable nail kit tool, your nails will be in tip top condition wherever you go. In addition, the nail drill is low noise – allowing you to get up close and precise without hurting your ears.
Allow yourself to be creative with your nail designs at home through the use of our nail brushes. Use with simple nail polish or acrylic powder to create a plethora of bold designs. Made with quality fibres, you can ensure each stroke will turn out perfect. Their lightweight design makes the brushes comfortable to hold and they allow you to effortlessly create unique designs with colours, glitters and textures. Our set includes 8 brushes to create endless design variations.
Can't live without your long nails? Then getting your own acrylic nail powder is an essential for your nail kit. Achieve a nail salon standard at home with our powder. Choose from pink, white or clear to get your desired look. Our nail powder can help your natural nails to grow stronger and longer. Lasting for up to four weeks, enjoy a set of DIY acrylics with the ability of doing touch ups anytime you like. What makes our powder so good is that you don't need a nail lamp to set as the formula dry's fast all on its own. Furthermore, you can ensure that your nails remain healthy as the powder is non-toxic, cruelty-free, environment-friendly and healthy.