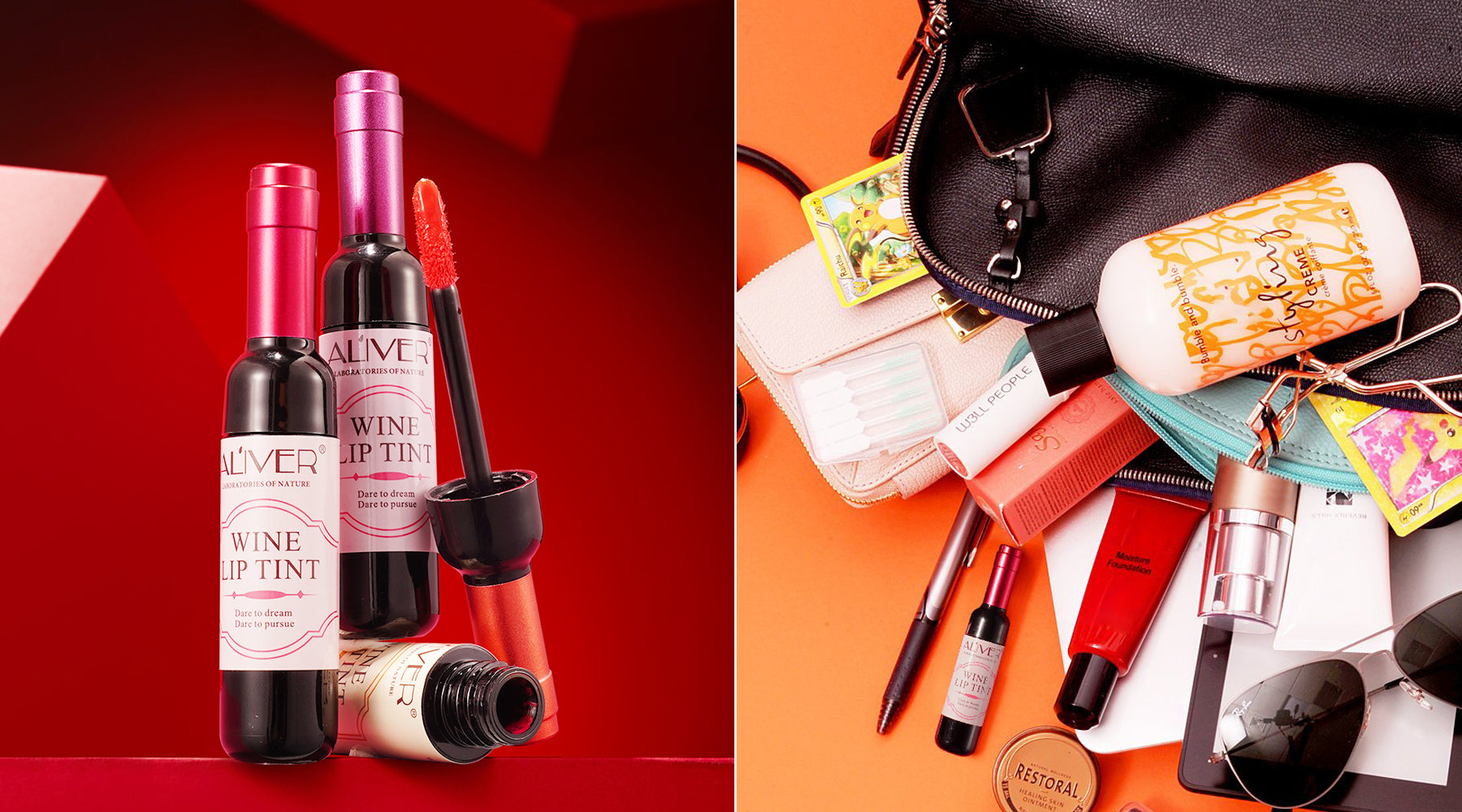 A Sneak Peek Inside Celebrity Makeup Bags
Celebrity makeup bags are mysterious places that we'd all like to snoop inside. They're filled with products that you just know have been recommended by their expert entourage. As well, we just know that whatever hides within those A-list makeup bags is the secret to those effortlessly flawless and glowing complexions. It can be hard to know what celebrities use and what they're paid to pretend they use. 
Here we unzip the zippers and lift the lid on what celebrities hold dear within their exclusive makeup bags.
An Exclusive Glimpse Inside Celebrity Makeup Bags
Blake Lively
Blake Lively is famous for her "I'm not wearing any makeup" makeup. It's natural and stunning, and you better believe a lot of thought has gone into the products that make the usually impossible so very possible. 
Here's what makes the cut in Blake Lively's makeup bag:
Charlotte Tilbury's glow-boosting face primer sets the scene, and Stila's cream blush adds that hint of natural flush. When it comes to her chic lips, she has Urban Decay lip liner, whose lines are filled with Christian Louboutin lipstick. We all know that trademark Blake Lively sheen, and know we also know it's thanks to Marc Jacobs Beauty highlighter. With a quick flick of Dior mascara, Lively considers herself ready to take on the day! However, perhaps the most intriguing product is Burt's Bees lip balm!
Kylie Jenner
When it comes to the contents of celebrity makeup bags, Kylie Jenners is surely the easiest to guess? Yes – to an extent. From a quick look inside, you'll see KKW Beauty Baking Powders, Kylie Cosmetics Burgundy Extended Palette, KKW Beauty Contour Palette, but that's not all she loves.
Kylie also uses a mix of the Beautyblender Bounce Foundation and Too Faced Born This Way Foundation as her base. She also gravitates towards the Anastasia Beverly Hills Modern Renaissance Palette. Match Kylie's foundation look with this ALIVER Foundation Stick that offers flawless, long-lasting and full coverage.
Kim Kardashian
In the midst of the Covid-19 pandemic, Kim treated us to a glimpse into her quarantine DIY makeup routine, giving us a glimpse into her makeup bag in the process. One of the first products we see her use is Joe Blasco Ultrabase Foundation in the shade Olive Beige 3, followed by Augustinus Bader's Rich Cream.
More recently, one makeup product that Kim has been raving about is Tatcha Luminous Dewy Skin Mist that's an ultra-fast-absorbing silky spray-on formula that hydrates the skin in an instant – ideal for her fast-paced lifestyle.
Margot Robbie
Margot Robbie is famed for her glowing complexion that's only enhanced by natural, bright makeup. 
In an interview, she revealed, "For every day, I use either Laura Mercier Tinted Moisturiser or Ellis Faas Skin Veil Foundation mixed in with some moisturizer…."
 Robbie loves Suqqu Cream Foundation but has also admitted in an interview with Vogue, "For every day, I use either Laura Mercier Tinted Moisturiser or Ellis Faas Skin Veil Foundation mixed in with some moisturizer…."
As well we see the surprising celebrity favorite once again: Burt's Bees. This time as tinted lipstick and in the shade of rose. ALIVER Wine Lip Tint with 6 coveted colors including Rose Coral, Burgundy and Classic Red, you can easily change to different styles while wearing moisturized tinted lips all day long.
Hailey Bieber
Everyone wants to know Hailey Bieber's makeup secrets. In fact, the model has become one of the biggest makeup inspirations on the scene and across the industry. But really, her makeup routine is relatively simple: the real secret is ultra-powerful, concentrated, and state-of-the-art formulas made by the makeup brand greats.
 These heavyweights are Kosas Revealer Concealer for day-to-day use and Chanel Vitalumiere Foundation for more 'full' coverage. For lips, Bieber prefers to go light and subtle with Olio E Osso Lip & Cheek Tinted Balm, which she often applies to her cheeks for an extra hint of color. Or, for those red carpet looks, Bieber goes for a more dramatic edge using Charlotte Tilbury Matte Revolution Lipstick.
Finally … 
If you're looking for makeup inspiration, celebrities are always a great place to start. So, we hope you've gained some insights (pun intended) after taking an exclusive look inside their makeup bag that'll help you to perfect your beauty routine! Use ALIVER skincare products to get naturally glowing skin and try ALIVER affordable makeup hacks to copy celebrities' fabulous camera-ready looking!