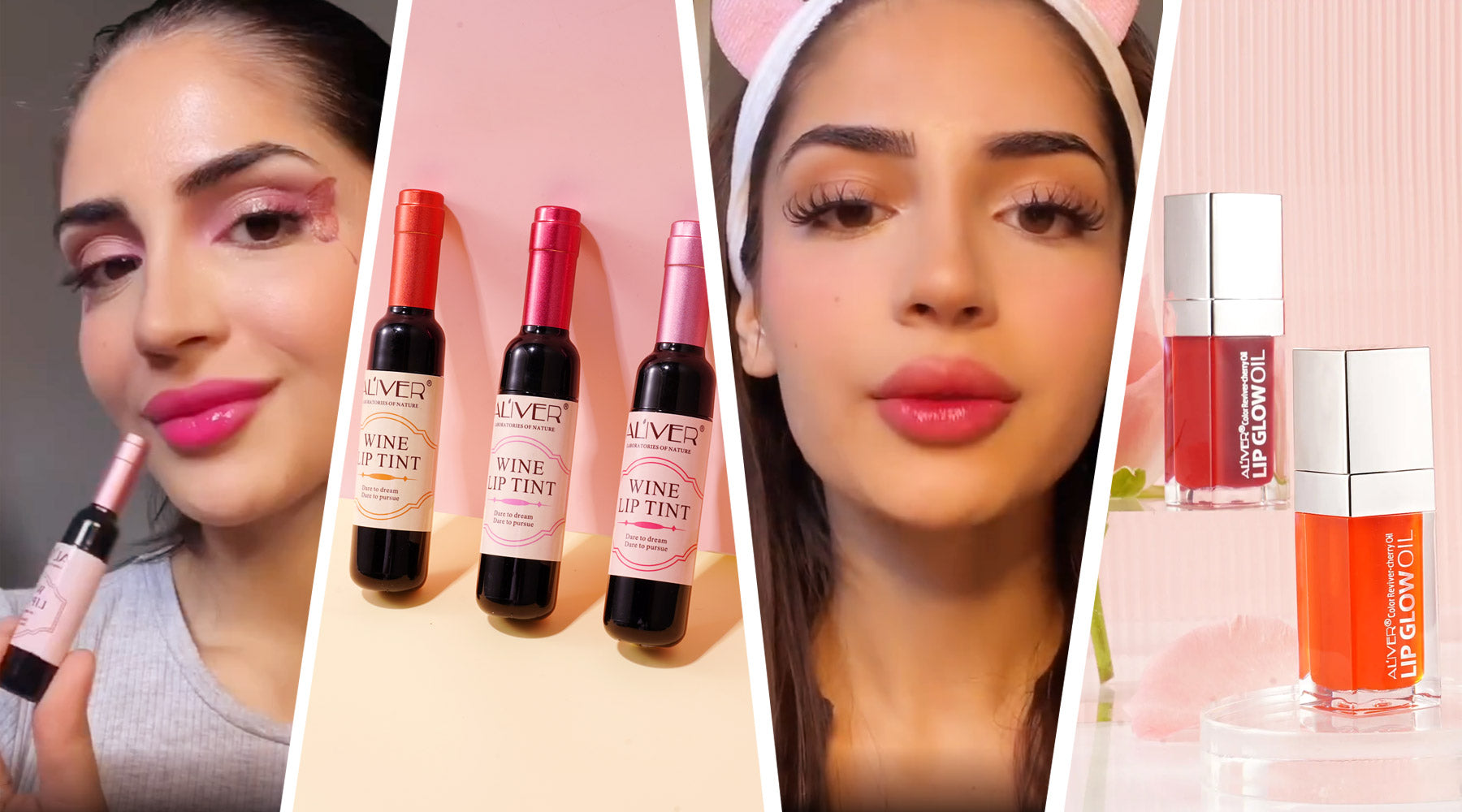 A Quick Guide To Achieve The Perfect Glossy Lips Look
Glossy lips are back in vogue, thanks to the wave of 90s nostalgia that has taken the beauty industry by storm. That's not surprising. Perfect glossy lips are the ultimate beauty hack to look glamorous.
Craving to jump on the glossy lip bandwagon? This guide will tell you how to achieve the much coveted look using everyone's favorite Aliver products!
Prep Your Lips With Some Chapstick
Apply lip balm to keep your lips moist. This will prevent dryness or flaking when you use the lip gloss. To avoid getting lipstick or gloss onto the skin around your lips, wipe off any excess product with a tissue.
Apply Your Lip Gloss
Apply lip gloss to the center of your upper lip and then rub it in with your lower lip. This act of pressing your lips together creates a high shine.
Aliver's Wine Lipstick High Shine Lip Gloss will give you the perfect glossy finish in just one swipe. It's long-lasting but can be removed easily with tissues, cotton swabs, or makeup wipes.
Tada! Your glossy lips are ready.
How to Make Your Lip Gloss Last All Day
When it comes to lip gloss, you don't have to settle for a single application—you can make your gloss last all day!
Here are some tips:
Start with a primer. This will help keep your lip gloss from rubbing off.

Use a brush to apply the gloss instead of dabbing it on with your fingers. Applying it with your finger uses less product which may cause it to wear off faster.

Let each layer of the gloss dry before adding another. This will help add extra moisture and make the color last longer.
Lip Gloss Tips and Tricks You Can't Miss
Lip gloss adds a luminous look to your lips without adding that extra layer of lipstick. It's a makeup quick fix that can come to your rescue even on days when you don't feel like putting on make up.
Here are some more lip gloss tips and tricks using crowd favorites from Aliver.
Remember to Exfoliate
The secret to achieving perfect, glossy lips is exfoliation. This removes dead skin cells that block pores and cause lip gloss to smear when you try to apply it.
Moisturizing works too. Try out Aliver's Lip Enhancer Lip Gloss to achieve that fuller & hydrated look today.
Pick a Suitable Lip Gloss for You
If you're looking for a fresh way to update your look or if you're new to the world of glossy lips, here are a few tips on picking the right product:
You can experiment with different types of products to find the ones that work best for you.

Always read the ingredients list first. If you see any added preservatives or artificial colors, it's probably not worth trying.
Aliver's high shine lip glosses come in six beautiful colors and leave your lips feeling soft all day. They're available in matte, satin, or metallic finishes. You can dress up as you please with these lip glosses.
Achieve a Fuller Look With Lip Liner
A lip liner is a great way to achieve plump looking lips. You can use it to create a defined outline which you can then fill in with some gloss. It'll make your lips look full while also hiding any discoloration or imperfections.
If you want to achieve a fuller look with lip liner, here are some tips:
Apply your lip liner in the same direction that your hair grows

Use a pencil brush to apply your lip liner with precision
Reapply if Needed
If you want to keep your lip gloss from wearing off, reapply it as needed. But don't go overboard: no one wants lips that look like they're slathered with Vaseline!
To make your lip gloss last longer, apply it in layers and let each layer dry before adding another. It's best not to touch your lips with fingers when they're glossy; instead wipe them off with a tissue for best results.
You can get a fantastic lip look by pairing our top-selling 2-and-1 Color Changing Foundation Stick and Flawless Color Changing Foundation Concealer. Browse our website for more.