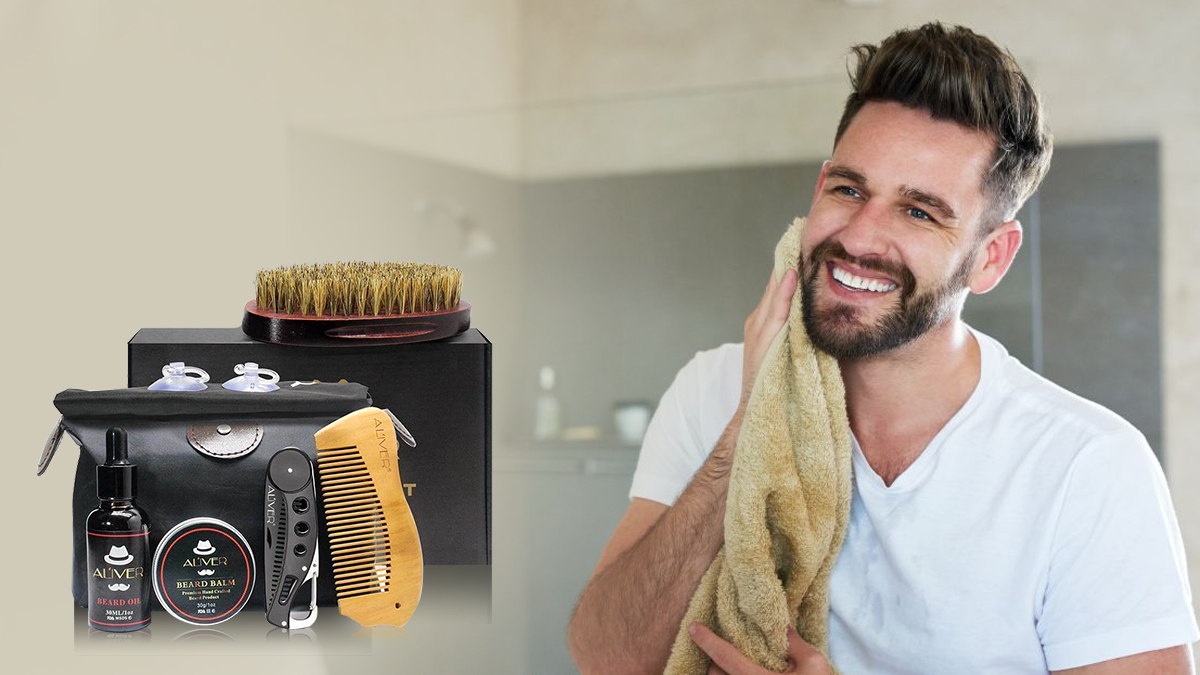 ALIVER Beard Trimming Set – One Step Closer To Become An Alpha Man
Have you made the decision to grow out your beard? Well, it's good. It will look bold, classy, and dashing as long as you have a healthy, even, and fuller beard. If your beard is showing signs of frizz, dandruff, dryness, and dreaded patchiness, it is high time to get a hand on a beard kit and cure all facial hair problems.
With the increasing trend of beard grooming, men's beard grooming brands have emerged. Among all, we are proud to say ALIVER Beard Trimming Set most functional. It is jam-packed with all grooming essentials, including oil, balm, and even a comb.
Before making this affordable yet worthy investment, if you want to dig more about this beard trimmer, let's get deeper and explore more.
What is ALIVER Beard Trimming Set?
Beard is an important part of a man's face. It requires as much attention as any other part of the body. To reduce your efforts and ALIVER beard trimming kit is always up to keep your beard in the best of health and flattering.
It is a well-appreciated and useful kit for people struggling with a patchy beard. ALIVER grooming kit is equipped with the balm, oil, and other essential things necessary for healthy growth. With regular use of this kit and its equipment, your beard looks and feels better. A well-groomed beard gives optimal professional vibes and loses an ugly, low, or old-fashioned reputation. This kit will assist you in creating an attractive and unique look.
Specifications
Material: Wood, liquid, and oil
Shelf life: three years
Capacity: 100 ml beard shampoo
Beard balm: 30g
Beard oil: 30 ml
Size: beard brush: 10.5 x 5 x 3.5 cm with 1.8cm hair length
Beard comb: 11 x 5 cm
Package size: 19 x 14 x 505 cm
What does it include?
ALIVER is a valuable beard-trimming set packed with all essential items. It includes:
1 x beard shampoo
1 x beard comb
1 x beard brush
1 x beard oil
1 x beard balm
Features
Here are some notable features of ALIVER Beard Trimming Set to help you get a better and more attractive beard:
The package contains a highly effective oil. It not only smoothens and softens the beard but also ensures to lock of the moisture of the beard and skin to prevent the discomfort caused due to extremely dry skin, which leads to itchiness.
The beard shampoo is made of organic oil nutrients whose benefits are not limited to beard hair but also can be used to wash whiskers and hair. The shampoo is mild on the skin and non-irritating.
The addition of a wooden comb with very fine teeth helps in untangling the hair easily without any breakage and pulls. It is easy to use and helps to create various styles making you look handsome all the time.
The beard brush present in the ALIVERbeard trimming set has a wooden handle and a comfortable grip. It is suitable for dealing with both fine and coarse beards. The brush is compact and small enough to fit in your pocket and carry with you wherever you go.
The fine construction of ALIVERstyling tools in the kit are the best companion for the beard shape without fluffing and deformation.
The beard balm is made of cucumber and olive extracts working to make your facial hair smooth, soft, and more radiant.
Benefits
When it comes to considering the beard grooming kit, the benefits are the first thing anyone jumps into. In the case of the ALIVER beard grooming kit, you do not need to wait or struggle to decide if it works for you because single use will notably show effects.
Here are some appreciable benefits of the ALIVER beard grooming kit:
·
Desired Look at Home
Sometimes it becomes difficult to take time out from busy schedules every other day to revive the beard shape. Hence, the ALIVER beard grooming kit is the best solution. It allows you to take care of the beard in no time.
·
Easy to use
No special massage skills are required to promote blood flow. It contains beard oil which is made of all-natural ingredients, including mineral oil, olive oil, cucumber extracts, and more. Take out some oil on them and rub them. Gently apply your beard, and enjoy!
·
Premium Quality
ALIVER does not compromise on quality to ensure good results. It contains original and premium quality ingredients to improve beard texture and health. Moreover, it has strong and durable packaging that ensures a long shelf life. You can use the product for up to 3 years after opening. It will not lose the effects.
·
Perfect Gift
Do you have a muscular and bearded friend? Is his birthday approaching? Do not be confused about gifts. Get a hand on this beard grooming kit. It is the best gift that will help improve looks and personality.
Is it Worth the Money?
For grooming and maintaining the beard forever, you need a lot more than a comb and beard oil. ALIVER Beard Trimming Set is equipped with everything you can wish to have an ideal beard. It effectively tames and nourishes the facial fuzz.
This beard grooming set might not be the solution to all of your facial hair needs, but it is the best shot you have to spruce up the beard look. Whether you have patchy, rugged, fuzzy, or even suffer from dry skin and beard dandruff, ALIVER offers a worthy way to end all these miseries.
Conclusion
If you are all about bearded life, then ALIVER has you covered. We have a useful and complete kit containing almost everything a person may need to improve their beard and looks. The kit contains the oil balm, comb, and other things to maintain a stylish beard.
When it comes to face and self-care, ALIVER is a trustable brand. We have served customers for years with a high success rate and customer retention. Here you can find different self-care and self-grooming, including a beard trimming kit to get classy and professional looks.