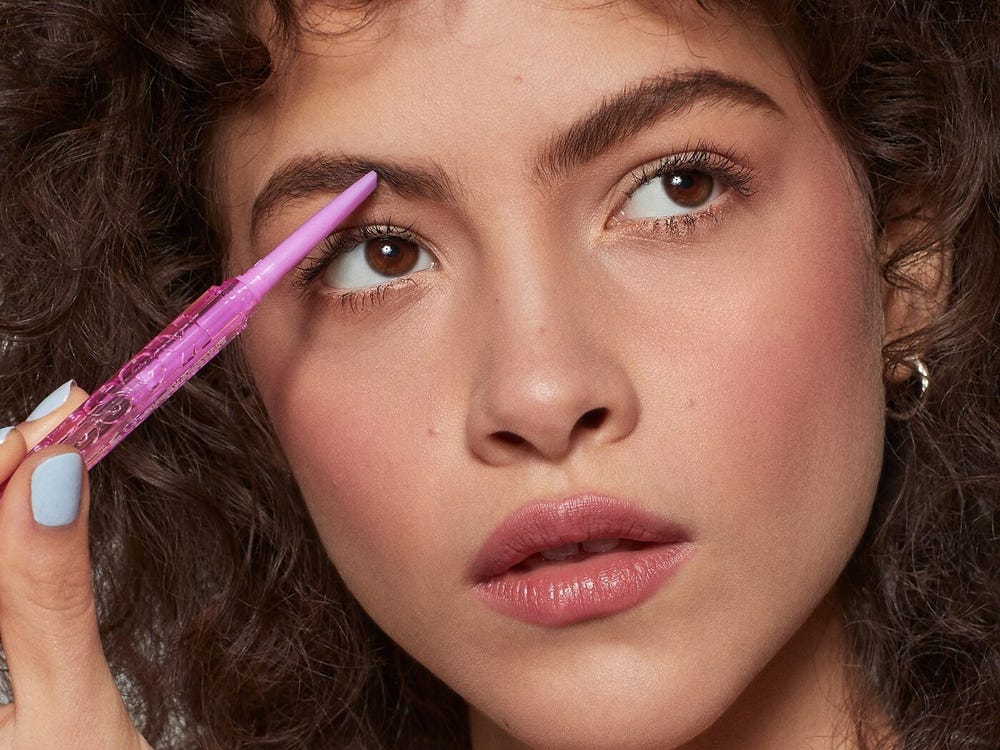 Your Guide to Mastering the Effortlessly Feather Brow Look
If the eyes are the windows to the soul, then the eyebrows are the frame of the soul. With this power, they can be incredibly eye-catching and transformative, becoming the subject of many trends, debates, and even controversy through the years. 
From the thin, penciled brow era of the '90s to the impeccably bold, photo-ready brows all over Insta today, but none are quite so beautifully arresting as today's IT brow style: The Feathered Brow.
What are Feathered Brows?
Feathered eyebrows are the invention of Finnish makeup artist Stella Sironen, who posted a pic of her colorful, holographic eye makeup beneath slick eyebrows parted horizontally down the middle. So, while the first iteration was partially a joke – feathered brows have since become serious business.
So serious that they've been sported by the likes of Gigi Hadid, Kendall Jenner, Lily Collins, and Hailey Steinfeld and have likely taken over your social media feeds. And are now the most popular approach to achieving thick, full, natural-looking brows.
What do Feathered Brows Look Like?
Feathered eyebrows are designed to mimic … well … feathers. They're soft, natural, beautiful, and they manage to achieve it all while being a delightfully inclusive eyebrow look.
Feathered brows follow your eyebrow's lead. From color to shape – a feathered brow is what you make of it. Subtle versions feature wispy feather brow hairs that just reach up over your natural brow arch, with more statement alternatives appearing almost strikingly spiky in appearance.
How do You Get Feathered Brows?
You can get the look with makeup or a cosmetic procedure called microfeathering to mimic the look of natural hair, making your brows more full and lush. Or, as we're going to learn today, you can recreate the look with DIY methods with equally professional-grade results.
Ready to try out this new brow trend for yourself? Continue reading for our step-by-step guide on how to become a feather brow expert.
What you'll need:
Eyebrow brush
Eyebrow pencil
Eyebrow Gel
Concealer
Step 1: Prep Your Brows
Since you're taking on the role of eyebrow artist, you'll need the right canvas to work off of. It's recommended that you follow the steps to achieving your natural perfect brow before feathering. 
For some, that includes using an eyebrow shaper to streamline their brows; Try ALIVER All-in-One Eyebrow Shaper Tool which is adjustable to make you stand out with each different look. For others, it's an exercise in darkening their brows by tinting or using eyebrow stamps. ALIVER Dual-Color Eyebrow Stamp Stencil Kit launches with 24 various brow shape stencils, saving you time on struggling with what your perfect one is.
Step 2. Brush Your Brows
The Aim: Evenly lined brows that evoke a light, effortless effect.
The Movement: Brush your brow hairs upwards towards the hairline and out towards the temple. 
The Technique: Take on your brows one section, starting with the sparse areas toward the outer part of your brow. Brush slowly, using small with light touches, and work your way toward the center of the eyebrow. This will help you to achieve the volume you need as you move.
Note: Remember to follow the natural arch of your eyebrow to achieve a laidback feathering look.
Step 3. Create Hair Strokes
Once you've feathered your brows, it's time to fill them in. Once again, tackle the sparse areas first. Then, apply the pencil with soft, small upward strokes that are slightly slanted towards the outer edges of your eyes. 
Pro tip: If you accidentally overdo it with the product, simply blend away the extra pigment with a clean mascara wand and begin again.
To add more definition to your brows, feel free to fill in other parts of your brow. Again, remember to start with the arch and slowly make your way toward the tail before blending it all in.
Step 4. Solidify it
If you've ever asked the question, "how do you get feathered brows to stay?" We've got the simple answer: Brow gel.
Take a clear gel of your choice and brush the product gently over your feathery brows for a look that holds. 
Step. 5 Conceal 
As the final touch to perfect your near-perfect fluffy brows, you'll want to add definition with concealer. 
It's best to use a thin, angled brush for this step. However, a flat concealer brush can also work and is particularly helpful for blending the product. 
Use your concealer to draw a line under the brow bone. Then, for more definition, apply the concealer around the top portion of your eyebrow, too - this is especially important if you're going for a more striking 'statement' feathered brow. 
Once you've framed the entire eyebrow with concealer, continue to blend until it's finished.
And voilà!
You are the proud owner of effortlessly fluffy brows. However, perfecting feather brows is a work in process. While the steps are foolproof, it'll take a few attempts to master the look fully. So, have patience with yourself and your brows – practice makes feathery perfection!