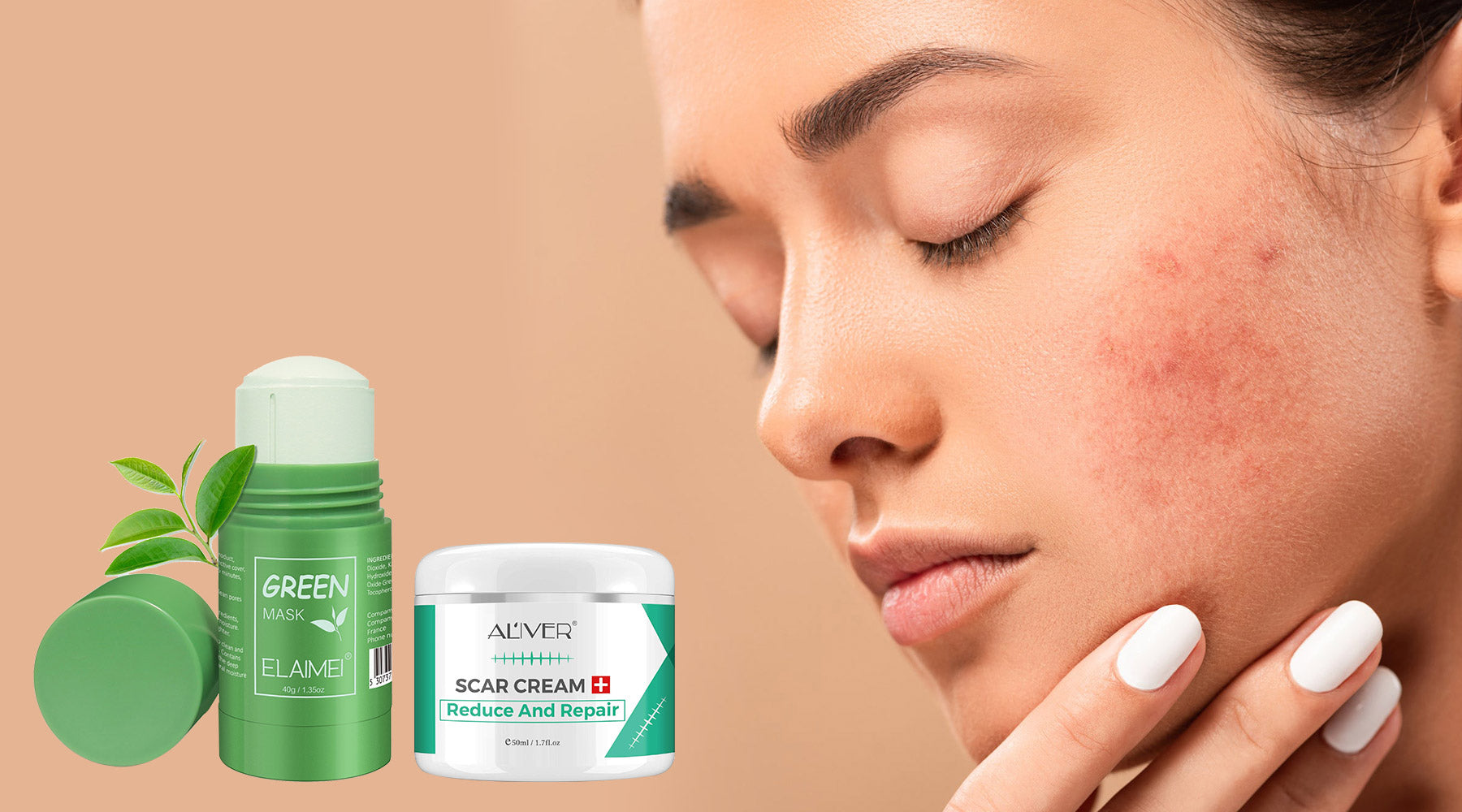 How to Remove Acne Scars? The Best Tips for Handling Scarring
Acne scars can be a source of insecurity and low self-esteem. No matter how much makeup you apply or what skin products you use, they can be hard to conceal. Acne scars are something that can happen to anyone, despite how old they are or what kind of skin they have. The good news is that Aliver has some effective tips and products for you to help reduce the appearance of stubborn acne scars and help you regain confidence in your skin.
So, without further ado, let's dive right into them!
Use a cleansing mask
A cleansing mask helps remove acne scars by unclogging pores, absorbing excess oil, and gently exfoliating the skin. This allows the new, healthy skin cells to grow quickly and replace the scar tissue. But finding the best acne mask for your skin can be a bit tricky. Lucky for you, Aliver has got you covered. The ELAIMEI Green Tea Cleansing Clay Stick Mask is one of the top-rated products on the market. It contains green tea extract, which has anti-inflammatory and antioxidant properties that help diminish redness and swelling and speed up healing. This will help brighten your skin and reduce the appearance of acne scars.
Use an acne treatment serum
To get better results after cleansing your skin, it's important to treat the area with a specific serum made for healing acne. The Aliver Acne Treatment Serum is a tea tree acne treatment serum that works like magic to improve your skin and reduce the appearance of acne scars. The serum is packed with active ingredients that help target any stubborn breakouts you have, reduce oil production on the skin, kill the bacteria that cause acne, and fight off any free radicals in your body. The serum is light in texture, making for a comfortable application to the skin and layering underneath makeup.
Use a scar removal cream
If you have severe scarring from acne, you might want to consider a scar removal cream, such as the Aliver Scar Removal Cream. With the help of a scar removal cream, you can gradually fade your scars until they are no longer visible. The Aliver Scar Removal Cream works wonders for most types of scarring, including acne scars, surgical scars, burn scars, and stretch marks. Those stubborn acne scars won't stand a chance against this cream, and you will see results in just days! With the Aliver Scar Removal Cream, you can finally make those scars a thing of the past.
Use acne-healing patches
Many are aware of the benefits of using acne-healing patches, but they don't like to walk around with a zit on their face. This is where star-shaped ELAIMEI Acne Healing Patches come in handy. These adorable acne patches don't make the user look odd, and at the same time, they work amazingly for acne and pimples. These patches are called Hydro-Stars because they only contain hydrocolloid. These patches can be used overnight or during the day, and they are great for getting rid of acne quickly.
Wrap it up!
While there is no one-size-fits-all treatment for acne scars, these are a few products that have proven to be effective in helping reduce the appearance of scars. If you ever feel discouraged about the state of your skin, remember that a little extra care and attention can go a long way in helping you get smooth, acne-free skin. And remember, nothing's permanent, not even your acne scars, so don't be too hard on yourself and take time to care for your skin!