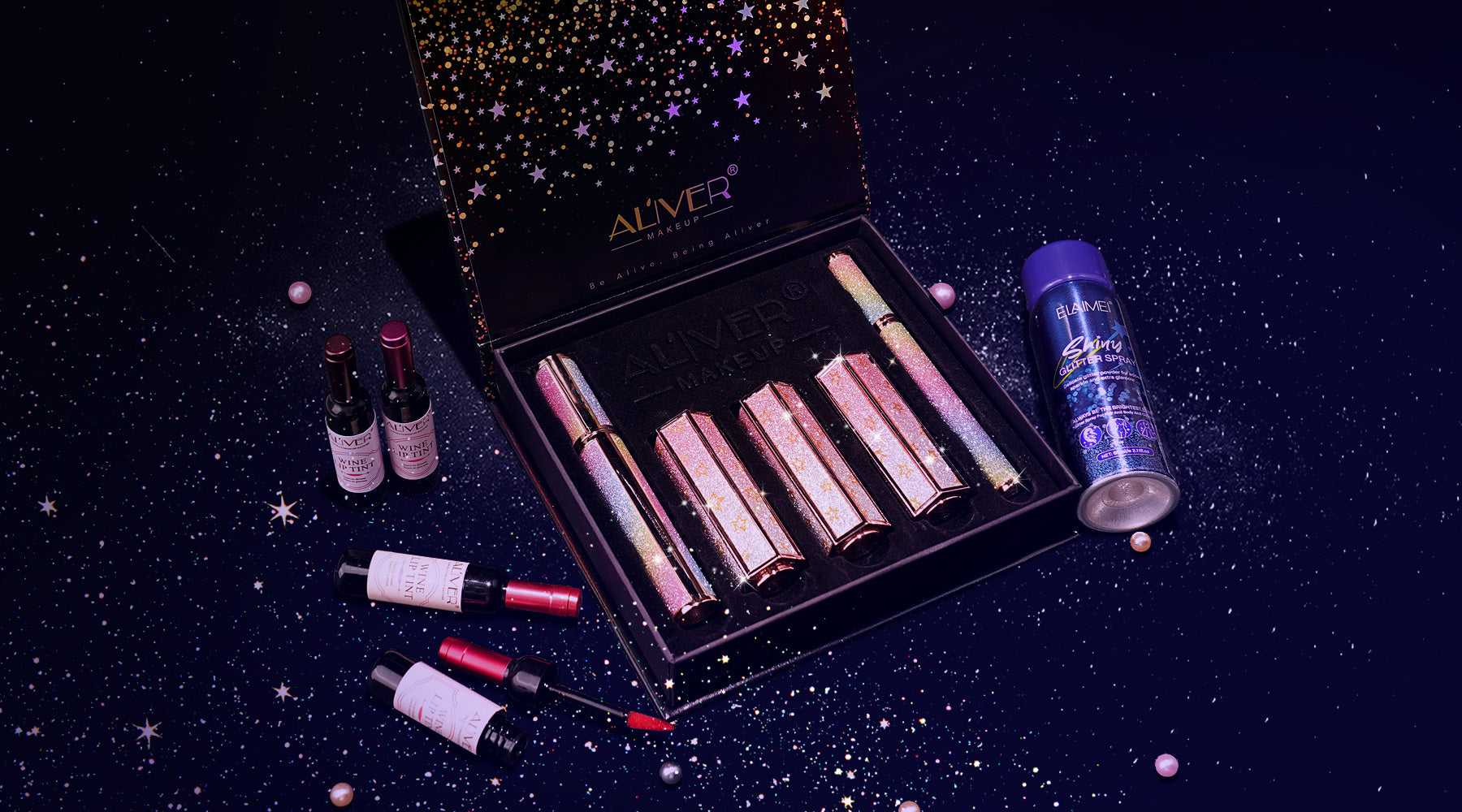 How To Add A Little Sparkle To Your Thanksgiving Party Makeup
As the weather changes, many people prepare for holiday parties and gatherings. Reconnecting with family and friends while enjoying copious amounts of food can lift anyone's spirits. While these holiday celebrations are exuberant affairs where lifelong memories are made, the process of selecting the perfect hairstyle, manicure, makeup, and outfit can seem overwhelming.
Holiday parties can serve as the perfect occasion to break out your more daring fashion and makeup styles. As the mood turns celebratory, consider stepping out of your comfort zone in terms of makeup and fashion styles. To embrace the festive season, many beauty aficionados select holiday party styles that emphasize the jewel tones of autumn and winter. Jewel tones gain their name from traditional gemstone colors such as emerald, ruby, and citrine. These tones are rich in color and pair perfectly with the holiday season.
In addition to jewel tones, this season has shown increasing popularity in makeup and fashion styles that shimmer with sequins and sparkles. ALIVER have created wonderfully festive beauty boxes that contain some essential products that will elevate your style for those upcoming holiday parties and gatherings.
Getting ready for those upcoming holiday parties does not stop with selecting the perfect hairstyle or stylish clothing, however. Deciding on the perfect festive makeup style and manicure for holiday gatherings is also extremely important. The jewel tone and shimmer trends can be applied to these categories as well. A stunningly glittering manicure that is accented by a sparkling eye look can make your outfit memorable and festive.
The process of selecting the perfect shimmering makeup and manicure products can be challenging for many. Luckily, holiday partygoers can rest assured as ALIVER Starry Shining Beauty Box contains a variety of products that can help create the perfect holiday party look. The box comes with a temporary glitter spray that can be applied to the hair, body, or clothing. This glitter spray can add a sparkling glow to your holiday party appearance. Apply this to your collarbones, shoulders, and chest to highlight these parts of your body. The effect is a gorgeous shimmering glow that will elevate your look in an elegant yet fun manner. Along with ALIVER Long Curl Mascara and waterproof eyeliner, this beauty box is perfect for creating festive makeup that will be the talk of the party.
To complete your holiday party look, don't forget to add ALIVER Wine Lip Tint. With a set of 6 colors tint that will bring a vibrance and pop of color to your lips. These tints can be paired with any holiday party outfit and their long-lasting nature is perfect for a Thanksgiving night of eating and drinking with family and friends.
ALIVER Wine Lip Tint and ALIVER Starry Box are the perfect holiday gifts for the beauty and makeup lovers in your life. Make sure to embrace the festive season by selecting makeup and beauty products that are sure to showcase your inner festivity and holiday cheer.