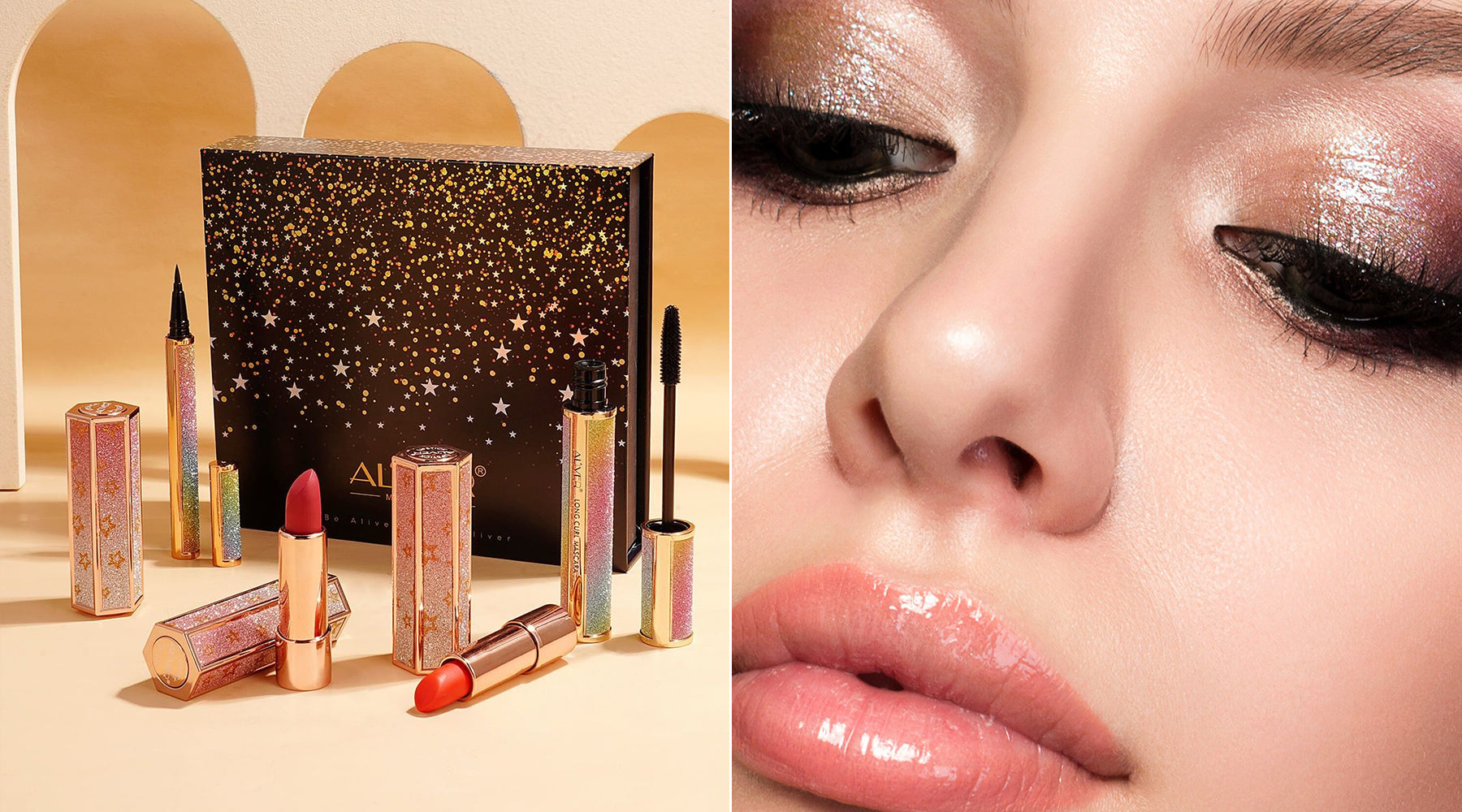 5 Holiday Makeup Inspo Ideas To Try Out Now
Are you ready to create the perfect holiday look? We've got 5 fantastic ideas for you!
Makeup is all about expressing yourself and having fun, so this festive season, let your spirit shine through with these 5 holiday makeup looks.
Holiday Glow
If you're looking for a simple way to give your skin a bit of holiday sparkle, try ALIVER Shiny Glitter Spray. This long-lasting, multipurpose glitter spray is easy to use, quick drying, and safe to wear!
If an all-out sparkle is not your thing, don't worry—it's also subtle enough to wear every day. Overall, it'll add just enough holiday cheer to make you feel extra festive!
Metallic and Dramatic
For those who want a little more drama and glam this Christmas, we recommend using ALIVER Ultra Pigmented Long Lasting Eyeshadow Stick on your lids and blending it.
Thanks to its creamy formula, blending is a breeze! Its shimmery and metallic finish makes it perfect for creating a dramatic look that will last all day. Finish it off with a dab of glittery eyeshadow on the inner corners of your eye, and you'll be ready to go!
Glitzy Eyes
Glitzy eyes are a popular makeup look for parties and night outs. They're also very easy to achieve with ALIVER Starry Shining Box.
Start with ALIVER Long Curl Mascara. Apply it to both upper and lower lashes, focusing on the outer corners of your eyes. This volumizing mascara has a zero-clump formula that makes your lashes fuller and longer without looking heavy.
Then, using ALIVER Waterproof Eyeliner, apply a thin line of black eyeliner along the upper lash line, extending out just beyond the outer corner of your eye.
Finally, give your lashes a boost with ALIVER 3D False Eyelashes. This set comes with 5 pairs of lashes that you can use to create a variety of looks. The best part is that they're reusable, so you can use them over and over again!
This waterproof look will last all day long, so you don't have to worry about it smudging or running when you're out and about.
Soft and Romantic
ALIVER Wine Lip Tint comes in 6 flattering colors that will make your lips pop with just one swipe. Its lightweight and soft texture make it easy to apply and comfortable to wear.
When used with a soft eye look, this lip tint will leave you looking soft and romantic without being over the top. This is the perfect look for holiday parties or casual nights out with friends.
Rosy Blush
Did you know ALIVER lip tint work as a blush too?
Add a little rosiness to your cheeks with ALIVER Wine Lip Tint. It contains moisturizing ingredients that won't dry your skin and lips out.
To apply it, use a brush or your fingers to sweep the tint across your cheekbones and blend. The result is a healthy-looking flush that will last for hours!
The final step to looking your best is ensuring you have the right products. ALIVER skincare, makeup and hair care products will give you the confidence to go out and dazzle during the holidays!